Short-Term Rental of homes and apartment negotiated and agreed upon through on-line platforms such as Airbnb, Homeaway, VRBO, etc., are considered a positive example of the new "Sharing Economy" and "Collaborative Consumption." Property owners and even renters can capitalize on sharing their largest asset: their home. This sharing concept is praised by some as a 'democratized marketplace.'
The appeal of being hosted in someone's home instead of a hotel is not just for the cost-savings but also for the peer-to-peer connection with real people. Many users want to give their money to a human host, a family, and not a cold corporate conglomerate. It makes people feel good to use these Short-Term Rentals. Airbnb, Homeaway, VRBO, etc., give millennials that authentic local organic bespoke experience they want to share with their friends. Easy access to Short-Term Rentals also provides other generations with unique travel experiences for meeting up with family. The choice between either staying in a multi-bedroom house on the beach with the opportunity to share a leisurely breakfast with the grandkids versus sleeping in separate hotel rooms to hurriedly meet downstairs in the hotel lobby only to wait for a table and an overpriced egg, is compelling travelers to seek out Short-Term Rentals.
On the other end of the spectrum, the Short-Term Rental market proliferation caused by AIRBNB and the like, are also said to be depleting the supply of low-cost and workforce housing for residents. For municipalities these Short-Term Rental platforms are just ways of not sharing revenue. Most hosts and the platforms that support the Short-Term Rental market are circumventing licensure requirements and failing to collect the requisite taxes. Until just recently, the on-line platform's response to community after community can best be described as belligerent and at worst could be summed up as: We are too big to bother with complying with your little community's laws – that is between your little municipality and the hosts.
Short-Term Rentals have a long history of animosity in South Florida. Evidence that South Florida dislikes the practice can be found in many of our local municipal ordinance, codes, homeowner and condominium association documents and they date all the way back to when the cavemen used real estate agents, travel agents and newspapers to advertise Short-Term Rentals. Enforcement of those rules and regulations has, fortunately or unfortunately, been noticeably absent.
Recently, however, the Miami Herald reported that Miami Beach has decided to get tough. Miami Beach leads the nation in the fight against illegal Short-Term Rentals fining both the host and the platform $20,000 per illegal host! The amount of the fine is the highest in the nation, and there is talk it isn't high enough. Miami Beach has hired Code Enforcement Agents solely for the purpose of seeking out and fining the illegal Short-Term Renters and the platforms that assist them. States and local governments throughout the United States are gearing up to tackle the illegal market. The State of New York recently adopted a new law targeting illegal Short-Term Rentals with fines.
This shift in enforcement action is taking place all over Florida as well. Key West has reportedly used undercover agents to weed out and fine people engaging in illegal Short-Term Rentals. Enforcement of rules against illegal Short-Term Rentals is trending. Condominium Associations are beginning to file lawsuits against the hosts and the on-line platforms for breaching Short-Term Rental rules. Is it only a matter of time before Florida Real Estate Commission realizes that these platforms are acting as unlicensed real estate agents and brokers, a third degree felony? Will they start going after hosts for aiding and abetting the unlicensed platforms?
If you are using AIRBNB, Homeaway, VRBO or the many other platforms to share your home or rental property, you could be facing fines and liens. Contact us if you need assistance in determining whether you are in compliance with your local rules and regulations. These rules have been on the books in many South Florida communities for decades, and it seems increasing the enforcement of these existing laws and regulations will be the more common approach going forward.
Strong, Colin, "Airbnb and Hotels: What to do about the Sharing Economy," Wired, 2014.
Walker, Robert, "A City Weighed Down by the Welcome Mat," The New York Times, March 6, 2016.
Herrera, Chabeli, "How $20,000 fines have made Miami Beach an Airbnb battleground" Miami Herald, November 27, 2016
Filosa, Gwen, "Key West cracking down on vacation rentals," Miami Herald, May 16, 2016.
---
A public food service establishment is a building OR a vehicle where food is prepared, served, or sold for consumption at or near the establishment or as take out.
Yes, even food trucks are regulated by the Department of Business and Professional Regulation (DBPR), the Department of Health and the Department of Agriculture and Consumer Services. DBPR's Division of Hotels and Restaurants handles public food service establishments and vehicles that prepare and serve food to the public. Further, you should also check with your county or city to learn whether a local business tax receipt is required.
The regulations require that licensees have a License Location Address. According to reporters for NBC Miami, more than 150 mobile food dispensing vehicles use an address that is a very small warehouse space in Miami. This location serves as a state-approved commissary where food trucks can get drinkable water and dispose of dirty water and grease. The trucks must report to their commissary once a week.
As government administrative lawyers, we always assume everything is regulated, and you should too. Small businesses are often caught without licenses, permits or approvals, and the strict regulation of food trucks is just one of the examples. Be careful out there because it is a paperwork jungle and government is the tiger.
---
When Rebecca Loveless wanted to relocate her tattoo studio from Boca Raton to Delray Beach, she knew she faced the challenge of being the first exclusive tattoo studio in town. Represented by Michael Weiner of Weiner and Thompson, Loveless successfully gained approval from the City Commission to open shop.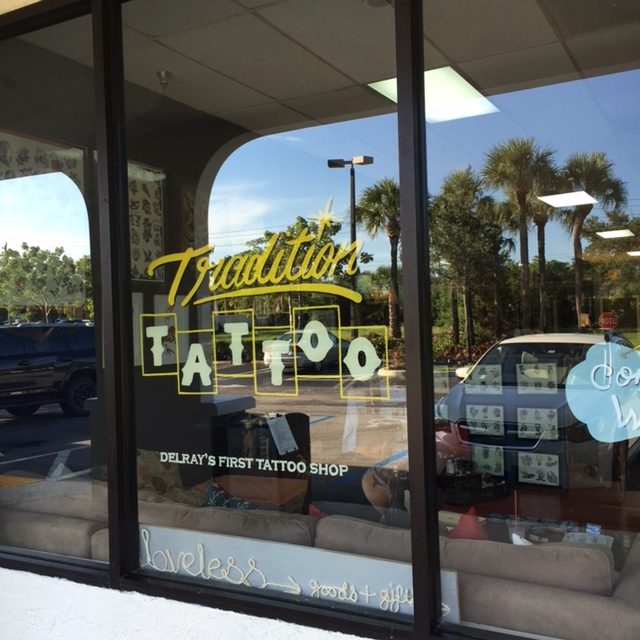 The first hurdle for Loveless was that the Delray Beach Land Development Regulations are silent on the topic of tattoos. Weiner and Thompson applied for a Similarity of Use Determination, arguing that tattoo studios are similar to personal service providers, which are allowed to operate in Delray Beach.
On March 21, 2016, the Planning and Zoning Board unanimously approved the Similarity of Use Determination. The City Commission appealed this decision on April 19, 2016 and reviewed the issue at its May 17, 2016 and June 7, 2016 meetings.
Before the City Commission, Mr. Weiner argued that the Commission should uphold the decision of the Planning and Zoning Board because Loveless met, and in fact exceeded, the requirements for a Similarity of Use Determination. Although the city proposed a resolution to declare "Zoning in Progress with Respect to the Zoning and Location of Tattoo Studios," Weiner argued that Loveless' application predated any such zoning in progress and that it would be a denial of due process to deny Loveless' application. Weiner also cited case law finding that tattooing is an art form protected by the First Amendment.
In a unanimous 5-0 decision, the City Commission agreed with Mr. Weiner's arguments and approved Tradition Tattoo. Many of Rebecca Loveless' supporters spoke eloquently on her behalf during the public comment period. Following this victory, Loveless officially opened Tradition Tattoo in Delray Beach on August 3rd.
Weiner and Thompson proudly defended Rebecca Loveless' First Amendment and Due Process rights. We wish Rebecca Loveless all the best in her new endeavor and we look forward to representing clients with similar challenges in the future.
---
The Notice of Proposed Property Taxes, also called a 'Truth in Millage' (TRIM) Notice, is mailed to property owners in mid to late August each year. There are almost 600,000 notices sent for Palm Beach County alone. I suppose if anyone sends you a form and tells you it is the "truth" you should be skeptical and this is the skepticism you should have for this notice. The Office of the Property Appraiser urges you to read your TRIM Notice carefully but it does not always make sense to a lay person unfamiliar with all the jargon. The Notice states that they are "not a bill." This much is true but it does reflect what your property taxes are likely to be on your November property tax bill so it is really important. Just because it is not a bill does not mean it should be disregarded.
The Notice contains information pertaining to your property taxes in the following categories: (i) Ad Valorem Taxes; and (ii) Non Ad Valorem Taxes. The first category is what you traditionally think of as your real estate taxes and the second relates to taxes for services such as garbage, fire and lighting.
It also establishes your property values as of the January 1 BEFORE the notice date. In this year, it would be as of January 1, 2016. It will also tell you what other exemptions and benefits you may have. If the exemption or benefit is not on the TRIM notice, then it is the position of your Property Appraiser that it is not available to you or you have not applied for it.
The Market Value is listed on your notice, and is also known as 'Just Value'. It supposedly reflects what a willing buyer would pay to one willing seller subject to certain additional considerations set forth in State law. For example it should take into account estimated reasonable costs associated with a sale.
Just value is then refined as the 'Assessed Value.' Assessed Value is generally the Just Value limited by the 'Save Our Homes' (SOH) cap on homesteaded property, the 10% cap on non-homesteaded property or portability limitations. The Assessed Value of homesteaded property cannot increase more than 3% a year subject to certain matters such as a material alteration of the house or a sale of a partial interest. Remember, Market Value can rise; it is just limited by the Assessed Value. There might be other limitations that apply, such as an agricultural exemption. All should be checked by the property owner when the TRIM notice arrives.
If you bought the house during the current year, be careful. This is a snapshot as of January 1 of the year in which you received the notice. Your former owner's property exemptions are not necessarily yours. You have a limited amount of time to straighten away your own exemptions and to make sure they are documented with the local authorities.
The mailing of the TRIM Notice begins an appeal period. It is typically disclosed in the notices. DO NOT MISS THAT DATE if you disagree with the value in the notice or the exemptions granted. It is extremely difficult to obtain any relief after that date so if you intend on challenging the notice, you must file your appeal timely. This can be done online and we encourage you to do so. Because we must take responsibility, if we file a petition on your behalf, we must charge for your appeal. There is a minimum charge of $350.00 for filing.
Trying to identify a successful appeal before filing a petition is difficult. In a rising market, it is likely that comparable sales will support the Property Appraiser's estimate. While you might not accept it, evidence that your neighbor's home is assessed differently than your own is not the competent evidence that a Special Magistrate will accept as persuasive. Comparable sales or an MAI appraisal are about the only evidence that is considered important. Remember, the burden of proof is on you.
We hope this helps you in reviewing your situation. Like all other things "government," they do not make it easy to interpret their own notices that are meant to serve public with full disclosure.
---
Launched in the midst of the 2008 "Great Recession," Airbnb is an online community marketplace allowing people to visit their website and advertise a room or even your whole house for short term rental. All of it can be done over the internet without registering with the state or local governments, directly paying or collecting taxes, or meeting insurance requirements. As we refer to below, they do take certain minimum steps in these areas but do not assume that all requirements or liabilities are met.
Airbnb makes its money by charging guests and hosts a percentage of each rental transaction, and handles the collection and disbursements of rent to the host along with any applicable "bed taxes." It even provides $1,000,000 in liability insurance should, for example, a guest slip and fall while enjoying your hospitality. There are other permits, taxes and liabilities that are not necessarily met by these minimums. However, the purpose of this article is to talk about the guest and whether the guest can be promptly removed from the premises.
While the Airbnb platform provides the promise of quick profit by marketing private residential property as if it were a hotel, the lack of licensure and regulations explicitly applicable to the arrangement leaves a property owner without a quick remedy in the event the tenant refuses to vacate and/or continue to pay as agreed. This issue first garnered national attention when two Russian brothers rented a Palm Springs, California condominium for 44 days and refused to leave after only paying for the first 30. In that case, the renter exploited California landlord/tenant law which requires formal evictions for tenancies exceeding 30 days. While Airbnb covered the unpaid portion of the reservation, Airbnb does not appear to formally offer any assurance that the guest will vacate or even provide indemnity for the cost of removal.
Here in Florida, the operator of any "public lodging establishment," i.e. hotels and motels, is entitled to near immediate aid from the sheriff to remove unwanted guests simply by notice provided under Florida Statute 509.141. But if an AirBNB host is not licensed as a hotel or motel (which would be highly unlikely for a casual user) the sheriff will most likely direct them to the county court eviction intake office to pursue the removal as a civil matter. This is because residential evictions are covered by the Florida Residential Landlord and Tenant Act (the "Act"), Sec. 83.40, Fla. Stat. et seq. And, the chapter relied upon by hotels explicitly states that it "may not be used to circumvent the procedural requirements of the Florida Residential Landlord and Tenant Act." Sec. 509.034, Fla. Stat.
Unfortunately, unlike California and certain other states, the Act does not offer any exclusion from its provisions for tenancies of exceedingly short durations (i.e. less than 30 days). Exceptions are made for hotels and roominghouses, e.g., sec 83.42, but the definitions and licensures accompanying those categories do not appear to be applicable to the average home or condominium owner simply looking to capitalize on an extra bedroom or a vacant unit. Rather, absent future regulations or revisions to existing law, the prospects for an AirBNB host looking to remove a nonpaying or holdover tenant will be controlled by the Act and require instituting an eviction action in the local county court. In addition to hundreds of dollars in fees and service costs, pre-suit three day notice will also be required in the event the removal is ground upon non-payment. The process can easily span 45-90 days and cost up to several thousand dollars in legal fees and costs for those reliant upon the hiring of an attorney to pursue the eviction.
Thus, in addition to the myriad of zoning, master lease, property association, licensing, insurance and other considerations to be undertaken before participating in online rental applications such as AirBNB, the property owner should carefully vet the guests and be mindful (in advance) of what measures will be necessary should a dreaded "squatter" take up residency. This is yet one area where consultation with an experienced Florida landlord/tenant attorney can be invaluable – as they say, "an ounce of prevention is worth a pound of cure."
---